Linda Mackenzie Show
LIVE Tuesdays, 8AM PT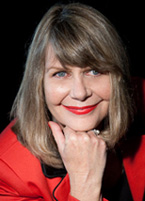 Linda Mackenzie

Every week join Linda for a fun, informative and entertaining ride navigating natural health and spirit. Known as 'Everybody's Friend' listeners can call into her show from 8:30-9:00 am PT to get answers to their questions on 800-555-5453 or 310-371-5444.

Mackenzie is an award-winning multi-book author and audio/video producer which includes the documentary short 'Many Faces of Psychic Ability.' As a world renown God-based Psychic, Doctoral Clinical Hypnotherapist Candidate and popular lecturer and workshop leader, she has gained national recognition and many awards for her work- including Who's Who, Who's Who International, Who's Who of American Women; Who's Who of Medicine and Healthcare and more. She was recipient of the True Human Being Award; Int'l Clinical Hypnotherapist Assn's Certificate of Appreciation for Furthering the Profession and ABI's Great Women of the 21st Century-Radio Broadcasting.
Lind was a former 18-year telecom'datacom engineer, and consultant for Airlines and Fortune 1000 companies; a former radio host on KPSL, Wisdom, PAX and CRN airing to 26 million people on 118 cable TV channels, 41 FM channels, satellite and the Internet in over 246 markets; a TV personality who has been featured on almost all major network and cable TV including:, NBC, ABC, CBS, E!, Fox, Extra!, Roseanne, Discovery and prominently featured in several award-winning documentaries.
Linda is Founder/General Manager of HealthyLife.net Radio Network.
Follow Me:
The Linda Mackenzie Show provides useful info on life and natural health
that includes great guests, tips, tools and audience participation.
Call in every Tues. between 8:30-9:00am PT CALL 800-555-5453 or 310371-5444

To listen on-demand now or download a show as an .mp3 file click on Show Title.
Player will start automatically after 15 seconds. To download show or listen on your smartphone or tablet click download link on player. To get shows automatically sent as a free RSS/Podcast click the option above the show list.
"One could easily describe Linda Mackenzie as the proverbial pebble that started the spiritual ripple in the pond of life to millions in search of self and a new beginning." - Mystic Pop Magazine
"- one of our most creative, prolific minds." - American Board of Hypnotherapy
"- a more dynamic, energetic, pleasant and enthusiastic entrepreneur won't
readily be discovered as Mackenzie..." - InsideRadio.com
Email: linda@lindamackenzie.net Web: www.lindamackenzie.net
To link to this page or send a copy of this page to a friend copy and use this link:
http://www.healthylife.net/RadioShow/archiveLM.htm