Linda Mackenzie Show
LIVE Tue, 8AM PT
Encore Tue 8pm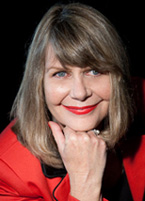 Linda Mackenzie

A former radio host on KPSL, Wisdom, PAX and CRN she aired to 26 million people on 118 cable TV channels, 41 FM channels, satellite and the Internet in over 241 markets and is a frequent guest on KABC, WDRC, KGMD, WTMJ, KISS, KLAS, KCMJ and other network radio stations.
Linda, a former telecom engineer and consultant for the airlines and Fortune 1000 companies, has been featured on a variety of original programming, news magazine programming and news programming on all major networks and a long list of major cable networks, such as, NBC, ABC, CBS, E!, Fox, Roseanne, Extra, Discovery and was prominently featured in several award-winning documentaries.
Mackenzie is also the author of the highly acclaimed Inner Insights - The Book of Charts (a 1998 COVR Award Winner); How to self-publish & market your personal growth book; Help yourself heal with self-hypnosis ( translated and sold internationally); and producer of audio programs: Help Yourself Heal Audio Series; Total Mind-Body-Spirit Weight Loss Program (a 1999 COVR Award Winner for Best Spoken Word Audio); and Help Yourself Heal Menopause.
A Doctoral Clinical Hypnotherapist Candidate & popular lecturer, she has gained national recognition and awards for her work-- and is listed in many editions of Who's Who including: Who's Who of American Women; Who's Who of Medicine and Healthcare; was a recipient of the True Human Being Award; Int'l Clinical Hypnotherapist Assn's Certificate of Appreciation for Furthering the Profession and ABI's Great Women of the 21st Century- Radio Broadcasting.
Linda is the Founder and General Manager of HealthyLife.net Radio Network.
Check out Linda's
Award-Winning Books, CDs & DVDs.
Linda's Products
Follow Me: